Joey Parker, Ph.D., PE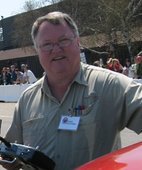 Joey retired in 2011 from 25 years teaching and conducting research in the Department of Mechanical Engineering at The University of Alabama. During this time he developed the ability to explain complex and complicated engineering topics in a clear, practical manner that was welcomed by his students. A long history of hands-on mechanical work on bicycles, motorcycles, and cars in his childhood was supplemented by practical electrical and computer training in his graduate engineering work.
These experiences combined with his education in controls and dynamic systems lead him to begin consulting on a part-time basis with Doughty & Powers Engineering in 2001.  Joey's background in instrumentation and computer interfacing gives him a particular advantage when it comes to understanding the complexities involved in the ever expanding use of event data recorders in both passenger and commercial vehicles.
Since beginning his consulting activities, Joey has completed several specialized classes in , reconstructing motor vehicle accidents (including motorcycles), downloading EDRs, and human factors in accident reconstruction. He has conducted more than 1000 accident investigations and has testified multiple times in both state and federal courts.
Joey and his wife Karen have five children and four grandchildren. He enjoys hiking, camping, motorcycling, reading science fiction and watching Crimson Tide sports when he has a few free moments.
 A copy of Joey Parker's resume / CV is available here:

joey_parker_resume_2018.pdf (28.4 KB)