Eddie Lavett, AS, CADD & Graphics Specialist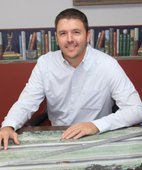 Eddie started working for Doughty & Powers Engineering in February of 2002. He is a 2001 graduate of ITT Technical Institute with an Applied Science degree in Computer-Aided Drafting and Design. His technical knowledge is used in creating accurate scaled drawings of accident related scenes and vehicles. He has 10 years worth of experience of inspecting, collecting and preserving accident related data on hundreds of cases nationwide. Eddie works directly with the project engineers to try and simplify complex accident scenarios in visual form through drawings and/or animations.
Over the years he has aquired several high tech skills in the areas of digital and reverse-projection photogrammetry, creating all types of digital media and using robotic total stations to map out scenes and vehicles. To make sense of all this data, he uses state-of-the-art software to create stunning lifelike animations and physics-based visualizations of accident scenarios for our clients. Eddie has also been trained and certified to download passenger vehicle EDR's (Event Data Recorders) since 2003.
Away from the office, Eddie enjoys many hobbies such as playing golf, bowling, watching college football and spending time with his family. Eddie has been happily married to his wife Melissa for 9 years. Together, they have a young daughter who is their pride and joy.