Jeremy D. Jones, BSCE, PE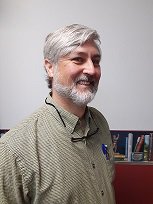 Jeremy Jones began his engineering career working with a professional land surveyor at the age of fifteen. With three years surveying experience under his belt, Jeremy enrolled in the College of Engineering at The University of Alabama and graduated with a Bachelor of Science in Civil Engineering in 1996. While in college, he worked as a draftsman for a local civil engineering design firm as well as a teaching assistant at The University.
Jeremy earned his Professional Engineering License in 2002 and is an active member of the Institute of Transportation Engineers (ITE) and the American Society of Civil Engineers (ASCE).
Jeremy worked in transportation engineering for twenty-four years prior to joining 3 Axis Engineering. He has designed and supervised roadway construction projects large and small throughout Alabama. As a result of his long career as a consultant, Jeremy enjoys a longstanding relationship with the Alabama Department of Transportation (ALDOT). In 2016 Jeremy served as one of ALDOT's team leaders for the statewide high-priority roadway safety assessment project. In addition to his work for the State of Alabama, Jeremy has designed roadway projects for many municipal and county governments within the state.
In 2016 Jeremy joined the City of Tuscaloosa's engineering team where he served as the City's civil engineer over traffic engineering. As part of this role he provided engineering for signal configurations, signal timing, roadway/intersection safety, and roadway/intersection capacity. He also collaborated with the University of Alabama and ALDOT personnel in the Tuscaloosa Regional Transportation Operations Program (RTOP). Through the RTOP program the three entities worked together to manage and coordinate the traffic in and around the City of Tuscaloosa.
As of January 2022, Jeremy joined the 3 Axis Engineering team where his expertise in traffic and transportation engineering further broadens our services available to our clients.
A copy of Jeremy Jones' resume / CV is available here:

JD Jones CV.pdf (130.1 KB)